HIP Resources for Mental Health
Managing your emotions can be tough.  So is getting over addiction and/or substance abuse. Maybe all the time working fr
om home or being put on lockdown has changed you or your peers and you are finding social situations or making new friends to be challenging.  How about unresolved traumas or ones that you may be currently facing?
We sourced via the Greatest ; a one stop shop, resource "a la carte" if you will and share our top 10 in no particular order, for you or someone you know. 
Some things we don't know we need until we need them.   
We encourage you to bookmark HIP' picks for the Top Mental Health resources through the list of virtual  online coaches, mentors, therapists and even apps that connect you instantly to positive mental health support and education.
Wellness encompasses 8 mutually interdependent dimensions: physical, intellectual, emotional, social, spiritual, vocational, financial, and environmental
When we practice these healthy habits daily for our physical and mental health will achieve greater outcomes.  Meaning:  We don't want to just live,  we want to live at our best!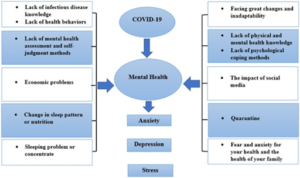 So check yo'self before you wreck yo'self. (in the most heartfelt, understanding and empathetic way) and to keep increasing your performance and well being – do a mental workout while you're at it to achieve greater sleep, improve relationships and practice mindfulness.  
The National Institute of Mental Health shares the pros in using online mental health care.
convenience

easy access to information

lower cost

Anonymity
The cons may come from hidden costs or privacy concerns when being asked for your personal data. Also be mindful that they may not be regulated. The following list of resources comes from established organizations with good reputations. 
Many of us get anxious at times, only to realize later our anxieties were overblown or irrational. The idea behind Worry Watch is to curb these feelings in the moment or even before they begin.
Use this app to track what kick-starts your anxiety, follow your "feelings" trends,  observe when the outcomes were harmless, and keep tabs on insights to stop future panic attacks.
We hope this list and the other resources provided will point you in  the right direction to healing and individual wellness where you may need it the most.
Hosted by the Center for Complicated Grief, this site offers help for healing after the loss of a loved one. Those with complicated grief continue to have difficulty managing painful emotions, troubling thoughts, and dysfunctional behavior.
If you are troubled by thoughts, dysfunctional behavior and other painful emotions due to the loss of loved ones – this site is for you.  It provides resources including articles, research, social support groups, and organizations to connect with when healing. It also offers a self-assessment tool to see if you're experiencing complicated grief.
Finally,  Wellness Together Canada offers free live counselling through Homewood Health, 24 hours a day. To speak to someone now, call 1-866-585-0445. We can connect you to a counsellor or help you better understand all the support options available at no cost to you.
We hope this list and the other resources provided will point you in  the right direction to healing and individual wellness where you may need it the most.