[vc_row][vc_column][vc_column_text]
This INUSED BROWNIES recipe is excerpted from
The Essential Guide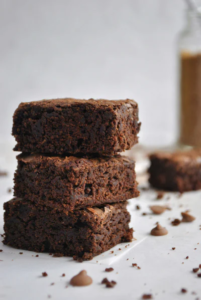 Yields 36 bite-size brownies
Ingredients
10 tablespoons (140g) INFUSED-rich cannabutter made with butter or coconut oil

1-1/4 cups (250g) granulated sugar

3/4 cups (65g) unsweetened cocoa powder

1/4 teaspoon kosher salt

1/2 teaspoon pure vanilla extract

2 large eggs, cold

1/2 cup (65g) all-purpose flour

2/3 cup (75g) walnut or pecan pieces, toasted (optional)
Directions:
Step 1: Prepare a baking pan
Preheat the oven to 325°F. To make the brownies easier to remove from the pan, line the bottom and sides of an 8×8 square baking pan with

parchment paper

or aluminium foil.
Step 2: Melt the butter
Make the base of these Infuesed brownies by placing the cannabutter, sugar, cocoa powder and salt in a medium heatproof bowl. If you're using Infused oil instead of cannabutter, swap in regular butter or vegetable oil for this step. Set the bowl over a saucepan of simmering water and cook, stirring occasionally, until the butter is melted. Continue cooking until the mixture is smooth and hot to the touch.

Remove the bowl from the heat and let cool until the mixture is just warm. Don't worry if it has a slightly gritty texture; it will smooth out again when you make the brownie batter.
Step 3: Mix the batter
If you're using Infused oil, add the appropriate number of drops to the warm butter mixture and stir to combine. Add the vanilla and the eggs, one at a time, stirring well after each addition. Finish by adding the flour and beating the batter vigorously for 40 strokes until the mixture is smooth and glossy. Fold in the nuts (if using).
Step 4: Bake
Transfer the batter to the prepared baking pan and smooth out the top to create an even layer. Bake for 25 to 30 minutes, until a toothpick inserted in the centre is slightly moist with batter. To ensure the brownies are finished, look for other visual signs: The centre should be firm and shouldn't wiggle when you shake the pan, and there should be some signs of cracking on the top.

Let the brownies cool completely in the baking pan set on a rack.
Step 5: Cut the brownies
When the brownies are completely cooled, remove them from the pan by lifting up on two sides of the parchment. Place the brownies on a large plate or baking sheet and freeze them for 30 minutes, until firm.

Using a sharp knife, cut the brownies into 36 bite-size pieces.
[/vc_column_text][/vc_column][/vc_row]