[vc_row][vc_column][vc_column_text]
Consider the Children 
An adapted travel and activity safety and prevention guide for families to follow and still get the most out of your Summer plans while ensuring our unvaccinated children are protected.
The Centers for Disease Control and Prevention says for anyone who is fully vaccinated—meaning two weeks past their last required shot—participating in indoor and outdoor activities without a mask poses minimal risk for contracting COVID-19, and the risk of vaccinated people transmitting the virus to unvaccinated people is low.
For vaccinated kids, this means hanging out with friends is fine. But for unvaccinated kids, play dates and get-togethers should continue as before, with small groups, masks, social distancing, and mostly outdoor play the rule. 
Currently kids 12 to 17 can receive the Pfizer and BioNTech vaccine.Vaccine approval for younger children is further away, though Pfizer has said it hopes to ask for authorization for 2- to 11-year-olds in the fall.
Visiting With Relatives and Friends
According to recent CDC guidelines, people who are fully vaccinated can engage in normal everyday activities without wearing a mask, though they should still mask up in healthcare settings; while traveling on buses, trains, planes, and public transit; and when required by state or local law. 
So if everyone in your group (including your children) is vaccinated, being together without a mask won't be a problem.
Wear  a mask in public places
Fully vaccinated family gatherings – okay with kids
Mix of unvacinnated and fully = still wear masks and stay outside as much as possible
Large gatherings if you are fully, still risky if some will be unvaccinated
fewer is better, outside is better, and masks work
Day Camps and Overnight Camps
Most summer camps were closed last year, and many of those that weren't looked very different. Smaller groups a third of the normal sizes.  This summer, many more summer camps plan to open, but because kids under 12 won't be vaccinated, the American Camp Association and the CDC recommend that camps with unvaccinated kids take all the COVID-19 precautions we've become accustomed to. 
CR's survey found that two-thirds of parents feel attending a day camp where all the recommended safety protocols are in place is somewhat or very safe for their children, while just over half felt the same about overnight camp
Before booking a camp, find out:
COVID-19 safety protocols
vaccine policy
how your child will interact with counselors and other kids.
 According to the CDC, the risk for kids at camp is lowest when there's a small group of kids, all from the same local area, who stay together all day, mostly outdoors and physically distanced. When campers come from several geographic areas, mix between groups, and don't maintain physical distance, that poses the greatest risk.
Family Vacation Plans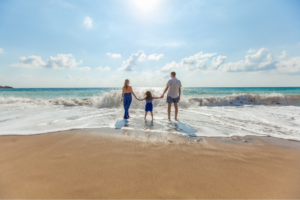 After more than a year of canceled trips, many families are understandably eager to travel again. Still, parents have questions about what's safe: Taking a road trip? Hopping a short domestic flight? Snagging a cheap ticket to Europe?
"The [virus] variants are throwing a bit of a wrench into predictions for how safe travel will be this summer," O'Leary says. "The vaccines are proving highly effective against death, but we still need to be careful about the possibility of transmission to the large populations who are at risk and unvaccinated."
The CDC recommends testing for unvaccinated people before and after travel (by plane, train, bus, or other transit) and following all state and local recommendations and requirements. (Vaccinated people still need to wear a mask while flying but need to get tested only before boarding an international flight to the U.S.; all international travelers need to get tested three to five days after returning home.)
For parents traveling with unvaccinated children, road trips are still safer than flying. 
And it's not just about how you'll get there. It's where you'll stay and what you plan to do during your trip. "You're playing the odds," says Yvonne Maldonado, MD, chair of the American Academy of Pediatrics committee on infectious diseases. "The more people you come in contact with, the higher the probability of exposure to infection and increased possibility your kids could get sick."
Here are some of CDC's Travel Best Practices:
Staying in a short-term rental or hotel room with a kitchenette is a good move.
Making your own meals means less exposure to other people than dining out at restaurants  Camping, either in tents or in an RV, is another lower-risk option. 
For activities, less crowded, outdoor sites such as beaches and national or state parks
Avoid large crowds like theme parks and concerts.
With all the precautions and planning required to avoid COVID-19 infection, summer 2021 might not yet be all you're longing for, but it can still be memorable for you and your family in many good ways.[/vc_column_text][/vc_column][/vc_row]