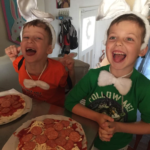 This year the covid bunny is making a one stop shop and boy will we have a mixed bag of treats. (I do mean the children and not their sugary surprises)
So this had me thinking – what can I do to eliminate the strategic egg placement and encourage fair play from ones height, to another's intuition and to avoid consequential hoarding of the prized shells from their mysterious bunny intruder who lays these chocolate eggs?
Don't give me all the credit, or anyone for that matter…
I take ideas and concepts from one momma's book to others as over the years its been a favourite pastime of mine to host children's events, parties and other meaningful occasions whether its a pizza throw down or an epic themed agenda for all the neighbouring minions. I love to see them get involved and listen intently while an organized agenda is set forth for their time at "Auntie Amie's". But, I do not take all the credit. For every idea that was ever thought up, someone somewhere has also thought it and for every hands on, pinterest perfect parent doing the party plans as i do – note, they all have a crew to support the activities behind the scenes.
On hand at my home includes: both parents of the little man. This couple is young and had their wee guy as teens. Albeit temporary, i extended a room in my home for a housemate during the retched covid season for several reasons but i will say with much appreciation, I couldn't have asked for a better fit dude to accommodate the space. His gf and child do the weekend thing with him which has adopted this friendship between my son and his quite nicely. God is good! Then, there is the father of the little lady aka my right hand man, Mr. "Just give me a job" Andrew that thankfully has had my back longer then all the kids ages added up altogether. Lucky guy eh? (insert aggressive eye roll here) His young gal has been a fixture in our life since we reunited back in 2017 and if it was up to me, she'd be my adopted daughter in a heartbeat.
So you have the characters in this social distancing, multi needs, blended tale of one rabbit vs. covid kid collaborations and i've got a plan to ensure smiles all around – including the real reason for the season when we break for a live service in the basement on the projector to remind all, He has risen – He has risen indeed. (if you are unclear what this references, i defer you to John 11:25-26)
LET THE GAMES BEGIN!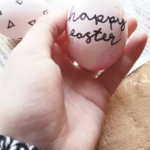 In preparation for the Easter weekend, I have had the children crafting each week. A fun all hands on deck egg banner adorns the kitchen and smaller pom pom, glittered, googly eye chicks and rabbits can be found on the fridge, mantels and doorways throughout the home.
Egg decorating and basket upgrades are a night before the "hunt" must. Here is a great find from our inhouse parenting expert, Not your Average Momma's Rachael Cyr for a DIY No Sew Sock Bunny. Rachael also shared what her boys do the night before Easter when they plant jelly beans outdoors. By morning, they have grown into lollipops magically but only happens on Easter – how fun!
Of course, twas the night before Easter A movie will surely settle all down. Who doesn't love a mischievous rabbit or the ol' peanuts gang? Yes carrots and dip are the planned snack… because you know …. The chocolate is coming!!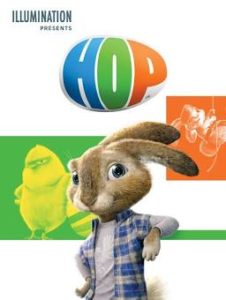 As morning arrives and one childs announcement "HE'S BEEN!" surely to ring through the sleeping ears of all other guests and habitants, which by the way if I were to take a vote on who this would be – hands down, no competition, my early rising louder than average mouthed child is 100% the MC of said upcoming proclamations.
Please arise from your slumber amigos. It is time.
Now this is where strategy plans are finally delivered for any of you perhaps encountering similar constructive chaos yourselves. NUMBERED EGGS. I was going to go with colours but this ensures they aren't just visually spotting this year's crafty wabbbit's treasures, but they are also ensuring they leave behind what they may find but, does not belong in their baskets, Of course, the same number per child will be prepped for fair play and then, it will be time for them to crack into their personal dozen for the treasures inside. Chocolate? Gummies? Yolk looking processed candies?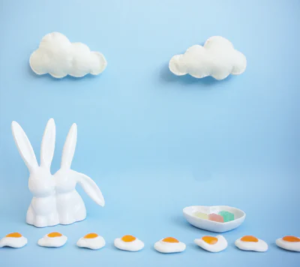 WRONG ANSWERS KIDDOS, this rabbit has other plans in mind!
There will be a secret word to spell out for each child: 1) Look 2) Out 3) Side . With few letters and more eggs with unsavoury centres, these will be adorned with erasers, stickers, bouncy balls and play dough. You can never go wrong with re-purposing many of these items from your childs craft cupboards or bottom of their toyboxes even if they recognize it's pre ownership, assumably – the Easter bunny is a crafty, sneaky sonofabitch so it just adds to the fun.
They will joyfully rampage to the outdoors unsure of course if the upcoming events are front yard or back, uncertain if the largest hollow cadbury rabbit awaits their anticipating youth and unclear if this could just be a rabbit prank given his practical mini mission they've been part and parcel to thus far. However, this is where parents 1,2 or 3 will steer the masses to the back first to continue their morning adventures.
Scavenger anyone? Here is the plan
If you followed the clues that leads us to the finale of the Sunday morning mayhem this Easter will bring which is staged for the front porch where their baskets filled with skipping ropes, sidewalk chalk, bubbles and okay, okay I am not the Easter Grinch – there will be plenty of jellybeans, smarties, chocolate eggs and those nasty marshmallow chickens we all hate but still buy and eat, year after year. Ya, you know the "peeps" i'm talking about!
And that's a wrap kiddos. Which parent said they were serving breakfast now cause this momma needs a rest before…. Easter dinner.
Ha! This holiday we have it all covered! (Including a great recipe shared from our in house parenting expert) Check out "How to make CBD Brownies"
Hoppy Easter!!